Looking for something to do with the kids during the day time on Halloween? Check out this list of fun Halloween events for the kids.
TRICK OR TREAT TRAIN
17155 W. 44th Ave. (Golden)
WHEN: October 31, 2015
WHERE: Colorado Railroad Museum
Ride the rails back in time through Railroad Halloween Town at the Colorado Railroad Museum. Catch a ride behind the historic locomotive in vintage passenger cars hosted by conductors and engineers in full costume. The Trick or Treat Train departs every 30 minutes between 10 a.m. and 4 p.m. Visit all the Town's special stops to fill your treat bag and tickle your funny bones. Visit the "not so spooky" haunted railcar or the Olde Railroaders silly graveyard. Get a picture of your costume as you pause for a photo in the Pumpkin Patch.
BOO AT THE ZOO.
2300 Steele St, Denver, CO 80205
WHEN: October 31, 2015  (9am-5pm)
WHERE: Denver Zoo
The 31st annual Boo At The Zoo, presented by Your Hometown Toyota Stores, offers more than 25 trick-or-treat stations, creepy crawly animal demonstrations and exciting family-friendly entertainment under the canopy of the beautiful fall foliage of Denver Zoo.
Trick Or Treat Trail
6159 S. Southlands Parkway
WHEN: October 31, 2015  (10am-12pm)
WHERE: SouthLands
Join us for a morning of fun filled with: Trick or Treating on Main Street!
* Spooky Story Time at Barnes & Noble (Taking place inside Barnes & Noble)
* Bouncy Castles, Carnival Games, Face Painting, & Balloon Animals!
* FREE Trick-or-Treat Bag when you donate nonperishable food items to benefit SHARE Project (While Supplies Last)
* NEW! Hay Maze in front of AMC Southlands 16 Theatre
* Halloween Photo Booth
Halloween Safe Street
Old South Gaylord Halloween Safe Street
Saturday, Oct. 31, 2015
South Gaylord St. between Mississippi and Tennessee
From 4 p.m. – 6:30 p.m., bring your kids in costume to Old South Gaylord Street in theWashington Park Neighborhood for free trick or treating. The street will be closed to traffic for the trick-or-treaters.
Aspen Grove Trick-or-Treat Street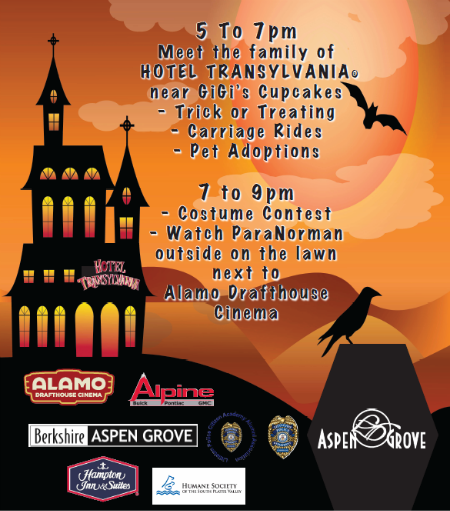 Aspen Grove, 7301 S Santa Fe Dr, Littleton, CO 80120
Saturday, Oct. 31, 5-7 p.m.
Trick-or-Treat Street
Visit the shops at Aspen Grove for an evening of sweet treats, hayrides, entertainment and more!