MADISON HEIGHTS, Mich. (WXIN) — Gluten-free diets have become increasingly popular as more people seek to avoid the protein in wheat, barley, and rye. For those with celiac disease or gluten sensitivity, consuming even small amounts of gluten can cause uncomfortable symptoms, from bloating and gas to fatigue and joint pain.
However, not all products marketed as gluten-free are created equal. A recent recall of Gluten Free Reese's Pieces Brownie Brittle underscores the importance of reading labels carefully, even for products labeled as free from specific allergens.
According to the U.S. Food and Drug Administration (FDA), the recall was initiated after Second Nature Brands discovered that wheat had gotten into the product due to cross-contamination at a co-manufacturer. While the product was marketed as gluten-free, it may contain gluten, putting those with wheat allergies or sensitivities at risk of severe or life-threatening allergic reactions.
The Gluten Free Reese's Pieces Brownie Brittle was sold in stores nationwide and online in a 4-ounce pouch marked with UPC 711747011562 and lot codes SG 1054 15/NOV/2023 1S and SG 1054 15/NOV/2023 2S on the backside of the pouch. If you have purchased this product, the FDA advises you to discard it or return it to the place of purchase for a full refund.
So far, one reported illness has been connected to this product, underscoring the severe nature of food allergies and sensitivities. If you have a wheat allergy or sensitivity, it's essential to take extra care when choosing products labeled as gluten-free. While many manufacturers take great care to prevent cross-contamination, accidents can still happen. Before consuming a new product, please read the label carefully and consider contacting the manufacturer to ask about their gluten-free practices.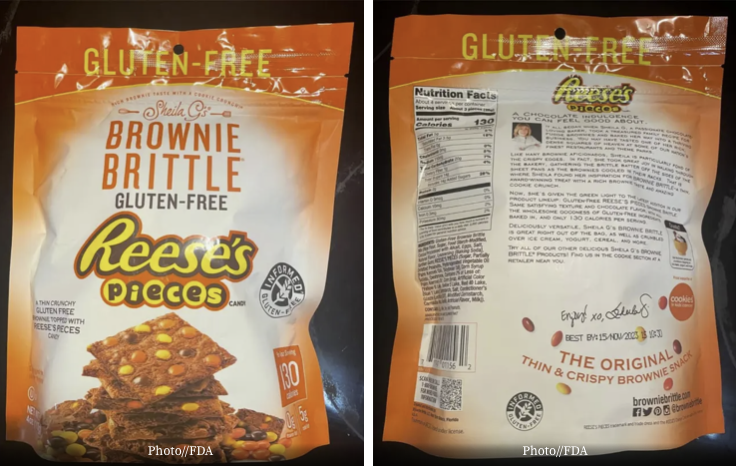 Anyone with the recalled snack should not eat it and should contact Brownie Brittle for a full refund. People can contact the company by calling (800) 651-7263 Monday-Friday from 8:30 a.m. – 5:00 p.m. EST or via email at [email protected].