Plenty of moments in a friendship are good enough for reality television. For Travis Nicoletti and Chris Carey, founders of Gringos Tacos, a drunken night between friends unraveled a wheel of creativity that involved tacos.
"It started out as a joke, really," says Nicoletti to #ImFromDenver "we we're drunk one night, and I said, 'let's open up a taco place and call it Pinche Gringos since it's a bunch of White boys.'"
While, at times, intoxication can bring extreme ideas, this one stuck. The duo, who've been friends for over 15-years, went on to do "nine pop-ups" at Biker Jims. Eventually, the creative taco group would shut down because of the pandemic.
However, tough times didn't deter their motivation. They kept moving and got into the food truck business, and after that, according to Nicoletti, "the rest started moving after that."
In 2021 Gringos Tacos was awarded the Golden Ladle Award for winning Project Paves Battle of the Chefs. In 2022 they were voted best taco Top Taco, a victory the two weren't expecting.
"I told Chris when we walked in if we get an honorable mention, we should be excited because there's like 60 restaurants or whatever," said Nicoletti. "We thought we lost – last year and this year, we weren't there to take a pic because we were still serving tacos. We had no idea we won until after."
Regarding their creative tacos, inspiration comes from friendship, marijuana, and wanting to create something no one has heard of with an explosion of flavor.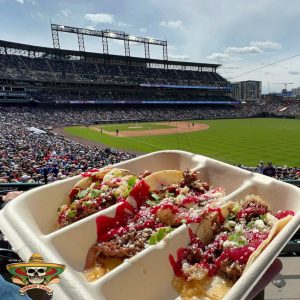 "I love doing things different and things people have never heard of. Our tacos are different from everybody else's,' and people say, 'Wow, that's crazy as hell, and it takes good.'"
As Gringos Tacos has plans to franchise and take over the country, for now, eventually, they're killing it at its new location at Mercury Café set to make their debut August 15. A move that was destined, as "their chef was retiring."
If you don't know what to order, Nicoletti has a favorite on the menu, The Machete, a slow-cooked barbacoa taco topped with a house chicharron salsa, with the mouthwatering signature tequila raspberry hot sauce and cotija cheese.