There are plenty of places to find the perfect food, drinks, and setting for the ultimate night out with friends and family. Trying to narrow down the options in Denver seems like a hard task – that was, until two friends, Sarah Galloway and Tamara McTavish, got together to open a women-owned wine bar.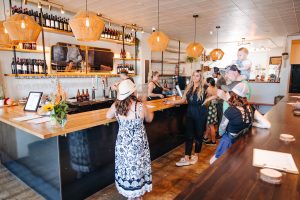 Wolf + Wildflower, located at 7190 West 38th Avenue in Wheat Ridge, brings a chill vibe with an impeccable wine list and food that will satisfy every foodie's tastebuds. 
"I think we are really trying to get this space back — not just Wolf + Wildflower, but the whole street," says Galloway to Westword. While it's not a secret that the duo can change the game and take back the space, we had to learn more about the best friends and what led them to this journey.
Are you from Colorado? If so, what parts? 
Tamara grew up in Littleton, and Sarah is a 4th generation Coloradan who split her childhood between Colorado and Montana.
When did you decide to come together and open Wolf + Wildflower? 
We have been friends for over 15 years. The idea of opening a wine bar in the west metro area was something we had talked about over the past few years. When we saw that the old wine bar was for sale on 38th Avenue in Wheat Ridge, we thought it would be a perfect location for us to revamp with our style.
The name is very cool; how did it come to a head? 
Wolf + Wildflower is a play on masculinity and femininity. Tamara's husband, Jack, owns Rocky Top Tavern in the Berkley neighborhood, and Tamara had wanted to get more involved in the hospitality industry with Jack's help. Anyone who has been to Rocky Top has probably noticed a wolf theme, and so Wolf + Wildflower represents the relationship between the two bars.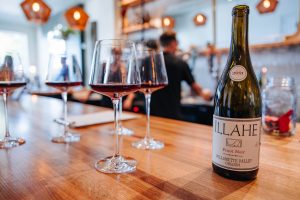 What are your favorite items on the menu? What about the wine option? 
We love everything on the menu, but if we had to pick it would probably be the Howling Wolf charcuterie board, and the Green Goddess salad. The Green Goddess dressing is made in house and is really bright and fresh, while the Howling Wolf features some of our favorite meats and cheeses. Tamara really loves the Tempranillo and Sarah the Chenin Blanc. Tamara is a little spicy and Sarah is very classic. 
If you could describe Wolf + Wildflower in three words, what would they be? 
 Inviting, approachable, community (warm, home, fun).
What are your long-term goals? Franchise or keep it homegrown? 
For now we are just focused on a successful first year in business, but we do plan to expand to include an event space in the near future. Stay tuned!