Happy World Chocolate Day!
This glorious day dedicated to the love of chocolate started over 2,000 years ago when the Aztecs discovered a new liquid that— according to DaysOfTheYear.com— they believed was the god of wisdom.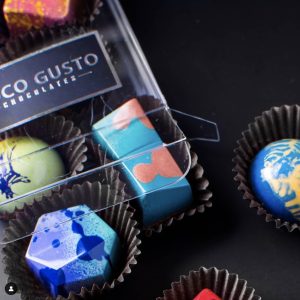 This "wisdom" turned out to be chocolate birthed from cocoa seeds. Because of its rarity, they used chocolate as another form of currency.
While we can't use chocolate as a currency in today's years, we can still bask in the world of its sweetness. To help celebrate World Chocolate Day, we asked Wade from Coco Gusto a few things when it comes to his business and his love of chocolate.
Why did you get into the chocolate business? 
I started making chocolates as gifts for the holidays 6 years ago, and over the years, it evolved from a hobby to a small business.
What's your go-to chocolate from your collection? 
My go-to chocolate is my Caramel Pecan chocolates. Part of my 8-piece collect collection. It's been adapted from my grandpa's creamy pecan rolls that he used to make each Christmas.
 What inspires your selection of pieces? 
I'm really inspired by geometric shapes and bright colors.
How do you celebrate World Chocolate Day? 
 I celebrate World Chocolate Day by creating a new chocolate dessert that I haven't had before. This year I'll be experimenting with chocolate moose and berry compote.
What makes Coco Gusto unique?
Coco Gusto is unique in that we focus on making vibrant hand-painted works of edible art, perfect for every occasion.
If you want to experience new flavors with stunning presentations, check out Coco Gusto.