This Saturday, March 12th is going to be the busiest day in Downtown Denver since 2019.  It's the St Patrick's Day parade which has been happening on and off since 1889, changing routes along the way. Roughly 300,000 people are expected for one of the Longest Parades in America.
This year, the Floats and Bands and Clowns and everything that makes up a Parade will get set up in the Parking lot, just North of Coors Field.  At 9:30 the Parade begins.  Participants will head out behind the Coors Field Scoreboard,  Jog over to Wynkoop and Union Station, head up 17th, and finally a long walk down Blake Street.  Organizers expect the Parade to last for 4 hours.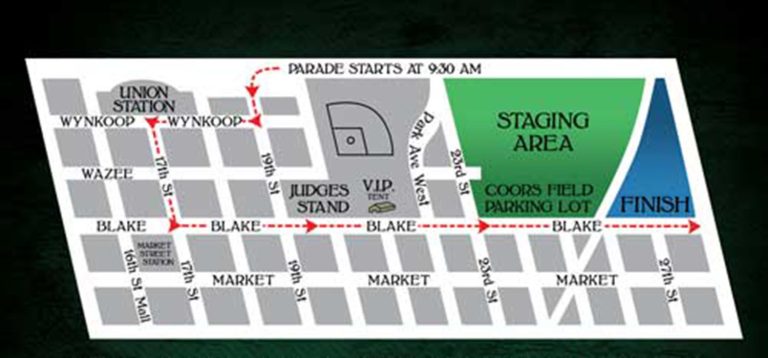 The Judges Stands are at 20th and Blake, so you will get to see all the bands stopping to perform at that one spot, but it will be crowded.  If you need space, there is much more room towards the end of the Parade Route.  It's always best to show up early if you want to be somewhere specific.  Some people show up as early as 5AM to sit where they want.
At the time of this writing, the weather is supposed to get up to 58 on Saturday, but it's probably only going to be 35 or so for the start of the Parade.  So wear layers.  Always bring a hoodie.  Alcohol is not permitted on the Parade Route.
Parking might be a challenge.  There is the Coors Field Parking structure you can enter at 27th and Blake.  That will only be available between 7AM and 9AM.  No earlier, no later.  There is no fee to park there.  You can also park at the Pavilions, which will charge you, and then take the free mall shuttle to Union Station.  Or the Convention Center, which also charges. Or Light Rail in.  Gas is expensive.
Get more details about the Denver St Patricks Day Parade Here