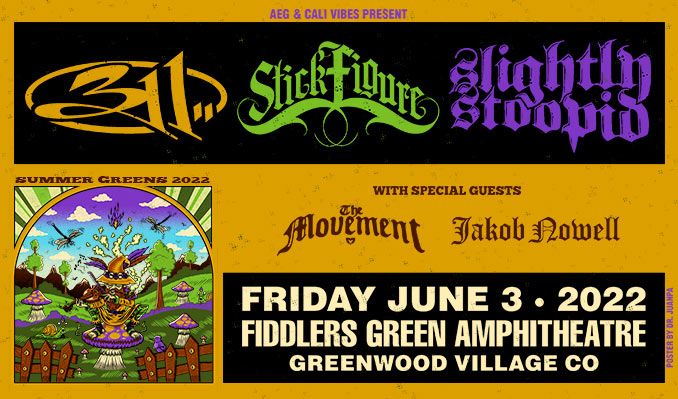 How to Win a FREE Pair of Tickets
To win you must follow and comment on #IMFROMDENVER social post, winner will be selected on Thursday, June 2nd at 4:20 pm MST.
Click Here To Follow and Comment To Win!
Slightly Stoopid
With a sound that fuses Ska and Reggae with punk rock's emphasis on melody, Slightly Stoopid is one of the most popular bands in California. Currently consisting of seven members including founders Miles Doughty (guitar)and Kyle McDonald (keyboard), this group has been able to tour internationally while still maintaining an active base in their home state.
311
The rockers from Omaha, Nebraska have been making music together for over 30 years. They've sold-out shows all around the world and still manage to stay fresh by mixing it up with newer sounds like rap or reggae in their own unique style that has earned them respect as one of America's most entertaining live bands!
Stick Figure
Stick Figure is an American reggae and dub band founded in 2006. The group has released seven full-length albums, all of which were written by frontman Scott Woodruff who also produces their music on vocals/guitar with self-taught multi instrumentation including keyboards for live performances consisting of vocalist Kevin Bong, keyboard player Johnny Cosmic backup singer Tommy Suliman Bass Guitarist Shawn Mclaughlin. Australian Shepherd Cocoa frequently joins them onstage so she can be appropriately nicknamed Cocoa the Tour Dog.